About the Speaker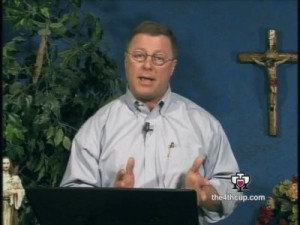 The author and narrator of The 4th Cup is Mike Fulmer of New Roads, LA. Mike graduated from Southeastern Louisiana University in 1983 in business administration. He is the owner and operator of Berryland Motors, Berryland Campers and Berryland Campers Outlet. He and his wife, Sandra have been married 25 years and have three daughters. The Fulmers reside in Ponchatoula, LA. and are active members of St. Joseph's Catholic Church. Mike's involvement in the church includes serving on the Parish Advisory Council, Finance Committee, Fundraising Committee and Continuation Committee. He also participates in RCIA and Youth Group activities. Mike loves sharing his faith with others and encourages everyone to share their comments by completing the feedback evaluation section at the end of the presentation. Thank you for visiting www.the4thcup.com

We would sincerely appreciate your feedback on the Fourth Cup Presentation. Please use the email form below to offer a testimonial, report an error, or for any other reason. Learn more about the Author (Click Here) Read the section at the bottom of this page for more information on error reporting.

Please rate this presentation on a scale of one to ten ('1' being the lowest, '10' being the highest), and then give us your specific feedback or testimonial in the "Comments" section. Please also indicate which form of the presentation for which you are leaving feedback (i.e. Video, Audio, or Written Transcript). If you would like us to respond to your message, please include your email address in the e-mail field below.